Home sales in 2020 were comparable to 2019 despite the Covid-19 lockdown during our peak selling season in the Spring. 2020 marks the 8th straight year of year over year price increases. Current housing prices are well above 2007 levels. Inventory levels have declined steadily for 114 months. The strength in sales, continued decline in inventory and increase in prices indicates that the Lancaster County real estate market continues to be strong and stable. Aside from high-end homes, which continue to struggle, it remains a strong sellers' market.
There is currently a shortage of housing inventory which presents a hardship for buyers. New home construction is steadily increasing, but it is not enough to keep up with the demand in Lancaster County where the population continues to increase roughly 1% per year.
While sales are robust with increasing prices, there are numerous sellers who will remain on the sidelines until they feel it is safe to have potential buyers touring their homes. As we work toward herd immunity and stabilizing case numbers home inventory levels will start to rise, hopefully by summer of 2021.
Our expectation is that we will see a sales flattening in 2021 – with sales levels possibly sliding lower than 2020 due to a lack of inventory. Further, we are expecting to see prices continue to increase in 2021 by approximately 4% to 6%. Mortgage interest rates dropped this year and will likely rise in 2021 but we expect the market will be able to absorb the increased costs to buyers.
In a robust seller's market, sellers still need to meet two criteria: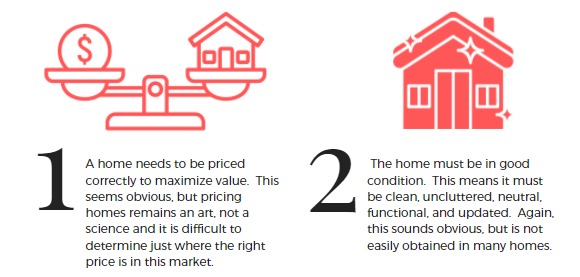 If a home does not meet these two simple criteria, the seller will be punished both on selling price and the time on the market. If it does meet the criteria, the home will sell very quickly at a premium price.
You don't need to be afraid to step into the market if you are careful and realistic. As a seller, you need to make sure you have done all you can to maximize the value of your home. As a buyer, you need to be sure that you have your financing in place, understand all the new lending regulations and are well versed in the nuances of the marketplace. Whether you are a buyer or a seller, you need an excellent Realtor!
Hopefully, this information has been helpful to you to put our market in perspective. Please contact me if you or someone you know have any real estate needs or questions, or want to discuss market conditions.